Do you know that the Canadian actress and the Baywatch babe, Pamela in Big Boss 4? Yes, it's true that the popular Indian Reality Television programme, Big Boss is going to surprise it's audience this year by bringing Pamela Anderson inside home.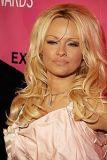 Last time, WWE super star, Khali from India was brought inside the Big Boss house. On next Pamela will come as a guest in the show. We can't reveal more information about Pamela in Big Boss 4 at this moment.
Since Big Boss Season Two, International contestants starts participating in Big Boss Reality show and Jade Goody was the first International celebrity in it.