Do you know today Superstar Rajinikanth's daughter Soundarya Rajinikanth weds with Ashwin Ramkumar? You can read more about Soundarya Rajanikanth wedding here.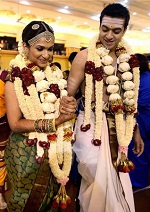 On Friday September 3, 2010 around 7:45 am, Super Star of Tamil film industry, Rajinikanth's daughter Soundarya Rajanikanth wedding was held at the Rani Meyyammai Hall, near the arterial Anna Salai in Chennai (Tamil nadu, India). Soundarya got married to her longtime boyfriend Ashwin Ramkumar, a Stanford graduate and a businessman in Chennai . Soundarya Rajinikanth Wedding was in a classic Tamil Brahmin rituals style. Ashwin was dressed up in a traditional Brahmin style white dhoti and angawastram and Soundarya was dressed up in Brahmin-wear Madisar type saree.
Soundarya Rajinikanth's Wedding ceremony was attended by many famous South Indian political leader, famous personalities of the corporate world and film industry. Aishwarya Rai Bachchan and Home Minister P Chidambaram were also blessed the recently wed couple.
Earlier on Thursday, September 2, 2010 there was a reception and many Guests including actors Abhishek Bachchan, Aishwarya Rai Bachchan, Sridevi and Minister Alagiri attended this reception. Another reception will be held on today evening.