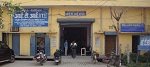 ITI Results 2010 has announced recently by ITI Delhi and many other ITI centers of India.
Table of Contents
All ITI students can check their ITI examination results online from the official website given below. But we have found that some of the ITI results 2010 has not yet uploaded to the official websites, even-though the news report about ITI exam results says that the results has been already uploaded and made available to the ITI students. So I recommend you stay tuned with us for more updates.
I will be watching all news about ITI and will update this post soon.
Website for checking ITI results 2010
You may visit any of the following website for checking your ITI examination results 2010.
Delhi ITI results 2010: http://tte.delhigovt.nic.i
VPPUP (Vayvasayeek Parvesh Pariksha Uttar Pradesh): http://vppup.com/
Uttar Pradesh ITI results: http://www.vppup.com/result_ent/2010/ent_result10.asp
ITI Results 2010 Orissa : http://www.sctevtorissa.in/
ITI Results 2010 Tamil Nadu: http://www.ititraining.tn.nic.in
ITI Kerala Results: http://tekerala.org/
ITI Results 2010 Karnataka (ITI-CTS Results) : http://emptrg.kar.nic.in/etiindex.asp
All India Trade Test May 2010 Karnataka : http://stg1.kar.nic.in/ats2010/
All India Trade Test July 2010 Karnataka : http://stg2.kar.nic.in/cts/
ITI Jodhpur : http://www5.indiaresults.com/Rajasthan/DTER/res/Rollquery.aspx?id=902525