'Holi' came from the sanskrit word 'hola', which means to offer oblation or prayer to the Almighty or God as Thanksgiving for good harvest. The colourful Holi originated as an agricultural festival and it symbolises rejuvenation, new beginnings and everything in life that is optimistic, brimming and sunny with life.In India, during holi nature and people alike to celebrate by throwing color each other, which meansto throw away the gloom of winter and enjoy the liveliness ,the colour of spring.
Table of Contents
Holi Photo / Image
In the below image you can see people celebrating Holi.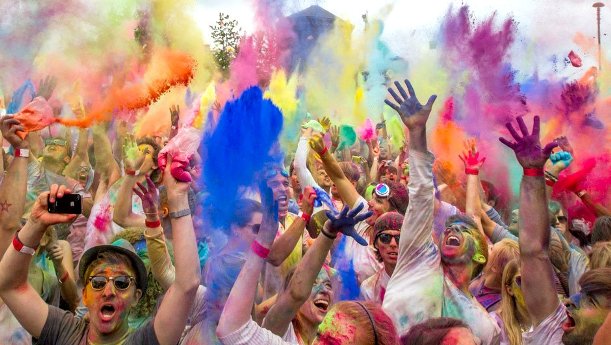 Like all other Indian festivals, 'Holi' also has its mythological significance and it may varies from state to state.some of them are given here.
– The most popular legend in Southern India is related to Lord shiva.the myth says that the Lord Shiva and Kaamadeva.In this Goddess Parvati failed in her to evoke Shiva from his meditation, she requested to the Indian god of love Kamadev, to help her. As a result Shiva disturbed by Kamadev's love arrow, and he opened his third eye that fired anger and Kamadev was reduced to ashes. According to this legend, people celebrates the sacrifice of Lord of Passion Kaamadeva.
– 'Holi' is the celebration of death of Ogress Pootana who tried to kill infant, Krishna by feeding poisonous milk to it.
-Another popular legend of Ogress Dhundhi who used to trouble children in the kingdom of Raghu. finally, she was chased away by the pranks of the children on the day of Holi. Still children play pranks and hurl abuses at the time of Holika Dahan on th date.
-Out of all myths, the most interesting one is about the Radha and krishna. In the memory of Shri Krishna, who played Holi on the banks of the river Yamuna with Radha and other gopis is also the most popular reason for celebrating this festival.
Whatever the legand is,all over India people celebrates Holi with colors, sweets and love in the whole mean of grace of the festival. Today, without any discrimination in caste cred or religion people enjoying the day of 'Holi"
Holi Date on 2017
Holi began in the evening of Sunday, 12 March 2017 and ended in the evening of Monday, 13 March 2017.
Holi SMS
Send some cool holi sms to your dear one and makes them happy. You can get a lot of Holi sms from this website: http://www.smsgreet.com/topic/holi-sms/