Tamil Nadu Chief Minister Jayalalithaa died in Apollo Hospitals Chennai on 5-12-2016 at 11:30pm. This article contains all information about death of Jayalalitha.
Jayalalithaa has died on 5-12-2016 at 11:30pm due to cardiac arrest in Apollo Hospital in Chennai, Tamil Nadu. This has officially confirmed by Apollo hospitals only on 6-12-2016 mid-night around at 12:20am. Jayalalitha's death shocked the entire Tamil Nadu, India.
Some news medias reported earlier today that Jayalalithaa died in Apollo Hospitals in Chennai today. Read more to know the truth behind news of the death of Jayalalitha.
People in Tamil Nadu are very eager to know news about the health of Jayalalithaa. Some Indian websites have already published that Jayalalithaa has been passed away today(5-12-2016). But Apollo hospitals has already denied it at that time. But later they confirmed her death.
Updates regarding the death news of Jayalalithaa
Here are the updates regarding the death news of Jayalalitha.
Update 1: The death of Jayalalithaa is not yet officially confirmed. Rumours spreading that the death news is now kept as a secret to avoid big disaster and chaos in Tamil Nadu.
Update 2: Apollo hospitals denied the news of the death of Jayalalitha.
Update 3: Some one from Apollo hospitals just informed news medias that Jayalalithaa just started responding to medicines.
Update 4: Rumours reveal that she is already dead, but others still argue she is very weak and about to die.
Update 5: After 31 hours of drama, Apollo hospitals officially confirmed that Jayalalithaa passed away at 11:30pm on 05-December-2016.
Update 6: O. Panneerselvam will be charged as the new Chief Minister of Tamil Nadu.
Update 7: Panneerselvam charged as the new Chief Minister of Tamil Nadu.
Visit this page again later for further updates regarding this news.
Jayalalithaa Died?
You might have read a lot of news regarding Jayalalithaa's health. Some news medias reported that she was dead and some reported not. Let's check what's the truth behind it.
We will provide you some facts about this news
Today morning, news came out that Jayalalithaa has passed way.
After hearing the death news of Jayalalithaa people gathered around hospital started throwing stones and other things into hospital. Some were violent enough to burn the hospital. Some people died and some tried to commit suicide because of this news. Some people started burning whatever they seen on road.
Soon the news was officially denied by the Apollo hospital authorities.
All police men were given strict instructions to be on duty and to prevent violence.
Jayalalithaa's body was completely under medicines and medical instruments. Blood circulation, breathing etc are controlled by medical instruments which keeps the heart and brain just work and were becoming weak.
Members AIADMK party was called for urgent meeting.
Flag of the official party was half hosted only.
Jaya TV itself which is owned by Jayalalithaa confirmed her death, but later denied.
Many local TV channels, Social Medias and online news portal confirmed it.
Rumours spread that like the death news of M.G.R. who died in US, Government of TN will announce the death of Jayalalitha after some days just to avoid violence and chaos in Tamil Nadu.
Some photos as proof about Jayalalithaa's death news
Below you can see some photographs which confirming the death of Jayalalitha before Apollo Hospitals officially announced her death.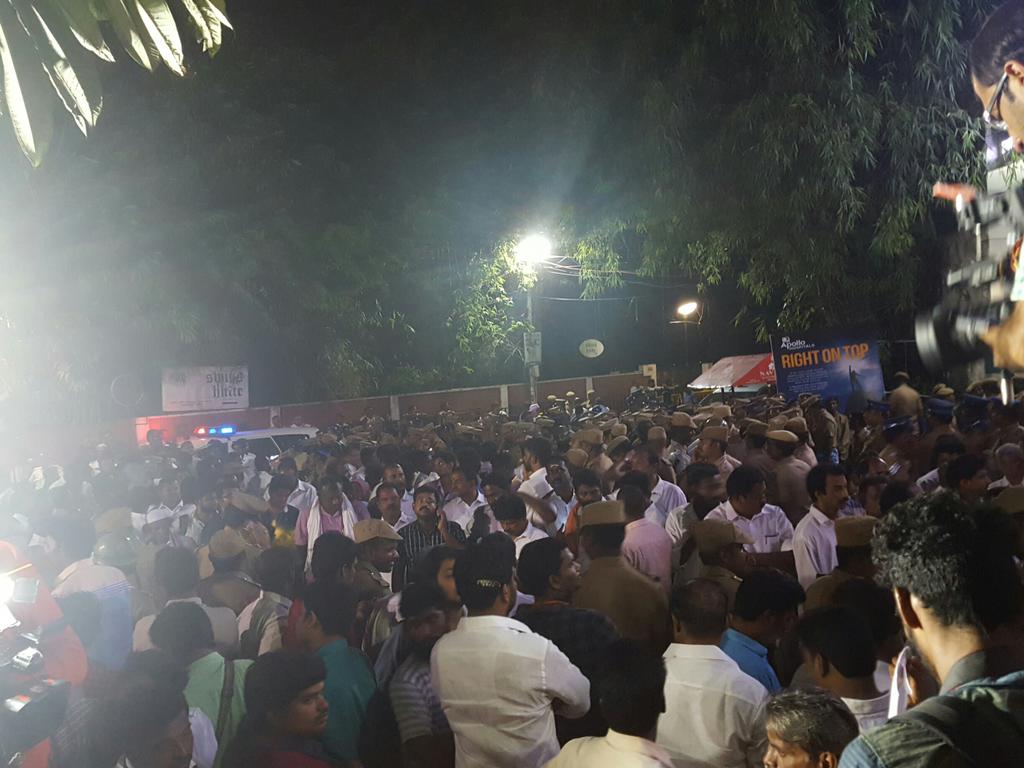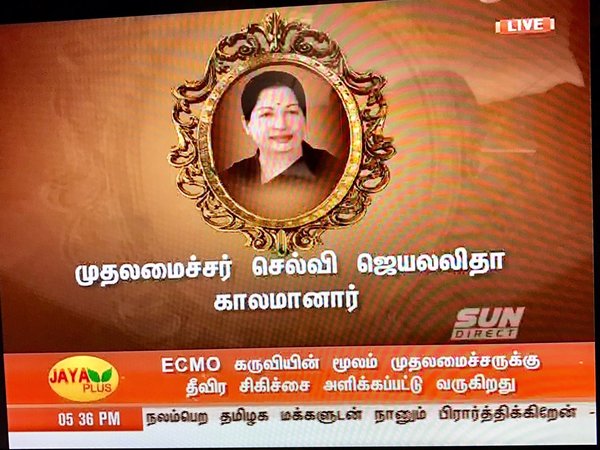 Finally we have got official confirmation regarding this from Apollo Hospitals.
Jayalalithaa Died – Background
Background of Jayalalithaa's death: Jayalalithaa aged 68, was admitted in hospital on September 22, 2016 with health issues like fever and dehydration. Jayalalitha was treated with antibiotics for infection and lung congestion & then was on ventilator as the health condition was very critical. Doctors made a hole in the wind pipe near her neck(called tracheostomy) so that they didn't have to put the tube through her mouth.
A team of well experienced and expert doctors including Dr Richard Beale from United Kingdom and a team of doctor from (AIIMS) All India Institute of Medical Sciences, New Delhi joined the team of doctors at Apollo Hospitals to treat Jayalalithaa. Soon she was on a high protein content diet and given active and passive physiotherapy.
On 19-11-2016, doctors moved her to a personalised room with facilities of an intensive care unit, including respiratory support. Besides ventilation, the room was equipped with all medicines and equipment for emergency care and to improve her health.
Dr. Prathap C Reddy, the chairman of Apollo Hospitals said Jayalalithaa was using a speaking aid as it was very difficult for her to speak normally with the tracheostomy.
When was Jayalalitha re-admitted in hospital?
Jayalalithaa re-admitted in Apollo Hospitals on Sunday (4-12-2016) evening due to a cardiac arrest. Her health was very critical and she was on extracorporeal membrane oxygenation (ECMO) and life support systems.
A team of well experienced Doctors from the AIIMS (All India Institute of Medical Sciences) reached Chennai today afternoon (5-12-2016) to provide her better treatment.
But unfortunately India's most talented doctors couldn't save her life. Jayalalithaa passed away few minutes ago [11:30pm – Monday, December 5, 2016].
Doctors from Apollo Hospitals said they are updating the Prime Minister of India, Narendra Modi's Office, Raj Bhawan and Union health ministry about the death of Jayalalithaa.
How Death of Jayalalitha affected Tamil Nadu?
Important facts that you must know about Jayalalitha's death.
The news of the death of Tamil Nadu Chief Minister Jayalalitha spread like a forest fire in Tamil Nadu, India.
Schools and Colleges in Tamil Nadu will be closed for the next 7 days from 6-12-2016.
Most of the Government institutions/office in Tamil Nadu will not be functioned tomorrow.
Even private institutions and offices will be closed tomorrow.
Tomorrow is declared as a Black day in Tamil Nadu.
Police are very vigilant as they are expecting violence from people of Tamil Nadu because of Jayalalitha's death.
 Tamil Nadu DGP has ordered all police officers in TN and personnel to be on duty.
Jayalalithaa's fans and AIADMK party people are very sad and are in chaos.
Her death shocked the whole Tamil Nadu like never before.
People are confused on who will be the next Chief minister of Tamil Nadu
Strong security has been arranged around Apollo Hospitals.
Some people start creating problems in & around Apollo Hospitals because of her death.
Many AIADMK members died of stroke after hearing the news of Jayalalitha's death.
Some sources say that many AIADMK supporter will commit suicide of this bad news.
Some fear that even the entire Tamil Nadu will be on fire
Who was Jayalalithaa?
Jayalalithaa (Jayalalithaa Jayaraman) was the current Chief Minister of Tamil Nadu. She was called as AMMA and Puratchi Thalaivi by her political party members and her fans in Tamil Nadu. Jayalalithaa was an Indian Politician since 1982 when she joined in AIADMK, which was founded by M.G.R. She was also a film actress and acted in 140 films which includes Tamil, Kannada and Telugu films. Jayalalithaa is called as the queen of Tamil cinema.
Stay tuned for more updated regarding the death of Jayalalithaa.
Share this news to maximum number of people and let everyone know about the truth of Tamil Nadu Chief Minister Jayalalitha's death.