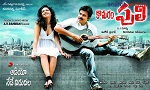 This Komaram Puli review will help you to get quick idea about this movie. Komaram Puli is a new Telugu Movie of Pawan Kalyan and is directed by S. J. Suryaah. The songs of the film Komaram Puli is directed by the world famous Indian music director, A R Rahman. Pawan Kalyan, Nikisha Patel, Manoj Bajpai, Charan Raj, Nassar, Brahmaji, Jyothi Krishna, Ali, Shriya Saran (Special song) etc plays the major roles in this film. Today, Komaram Puli film is released on all major theaters of Hyderabad, Bangalore and some other theaters of South India. It's expected that the movie Komaram Puli will be a massive hit since the director of this film – S. J. Suryaah, Music directed of this film – A R Rahman, and the star of this film Pawan Kalyan are the very talented artists of Telugu film industry. The movie, Komaram Puli was set to release last summer, but unfortunately got delayed due to some reasons. Sony Music has the film's music rights. Geeta Arts, which owns the theatrical screening rights of the film Kumaram Puli in entire Andhra Pradesh state of India
Komaram Puli Movie at a glance
Director : S.J. Suryaah
Story and Writer: S.J. Suryaah
Cast : Manoj Bajpai,Pawan Kalyan, Girish Karnad, Nasser, Saranya, Charan Raj, Nikeesha Patel, Banerjee
Producers : Navodaya Appachan and Ramesh Singanamala
Line producer : Prime Focus : Shamsher Walia
Music Director : A.R. Rahman
Cinematography : Binod Pradhan
Film Editing : V.T. Vijayan
Stunt performers : Brahim Achabbakhe, David Bueno and Charlie Ruedpokanon
Stunt coordinator : Kaecha Kampakdee
playback singers : Javed Ali, K.S. Chitra, Shreya Ghoshal, Harini, Naresh Iyer, Madhushree, Shweta Mohan, Vijay Prakash, A.R. Rahman, Tanvi Shah
Lyrics of Komaram Puli Songs : Chandrabose
Komaram Puli Movie Review
The original title of the film was Puli, but later changed to Komaram Puli. Rumors spread that the name change of this movie Komaram Puli from Puli to Komaram Puli is to appease Telangana agitators. The main character of this film, Puli (Pawan Kalyan) is an ideal police officer who believes that all the police officers should be self disciplined first. The actual story starts when a don named Al Saleem parks his car in a no parking area and is fined by the police officer, Puli. This hurt Al Saleem not because of the amount of fine that has been changed, but due to his prestige issue. In this course of interrogation, the police officer Puli gets to know that this Don, Al Saleem has a deep connection with a terrorist Nixon who has sent men to the country through forged documents to create mayhem and commit a few murders. After a long struggle the Puli cracked the puzzled relationship between Al Saleem and Nixon, he got to know a damning truth which is the real suspense of this story.
Nikesha Patel looks so attractive in this movie, Komaran Puli. Everything goes fine but towards the second half of the film Kumaram Puli the content flounders. It is from one villain to a non existing one and from a non existing 1 to 3 more people that the hero needs to bump off and the finale is abrupt. Leave the film's impossible intro and the disappointing finale and enjoy the middle, that is you will learn to enjoy the film if you identify with Puli's character and commentary than with S.J. Surya's story telling technique. You walk away enjoying the super star Pawan Kalyan's work, but the film Kumaram Puli gives you a feeling that somewhere towards the end the director Sj Surya lost interest.
Komaram Puli Videos
Komaram Puli Trailer Video
Komaram Puli Video Song – Amma Thale
This video song was made for youth. Most popular Komaram Puli Song.
Komaram Puli: Maaralente Video | Pawan Kalyan
Pawan Kalyan Video about Komaram Puli Movie Flop
Komaram Puli named changed to Puli
Update : Recently the name of the movie Komaram Puli has been changed back to Puli in all banners and posters of this film due to the protest against the name of this movie Komaram Puli by Telangana activist of Telangana, Andhra pradesh.
Please add your Komaram Puli Review below.