Hello folks, as you know Christmas is very near and all of you might be well prepared for greeting Christmas. Like you many of the webmasters or blogger started preparing their blog or website with cool Christmas design and other stuffs to entertain their readers.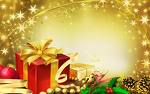 If you are a blogger and not yet prepared your website to greet Christmas, do it soon. Because Christmas is so close and you won't be having much time to do it later. So take your own time and make a cool special Christmas design for your website.
You can also get ready-made Christmas themes or templates from many websites. Select one that suits best for your website or edit it according to your need. You can also make your own design or edit your existing design with some Christmas logos, badges, icons, images etc.
Set a special greeting on the homepage of your website or blog. Create some cool and interesting Christmas related articles in tour website. Send some Christmas special greetings to them through email, and invite them to participate in Christmas related conversations or to read Christmas related articles. These all will make your website visitor more happy and enjoy this Xmas with them.