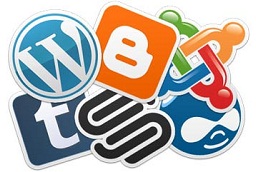 A blog software or Weblog software is a software designed to create, publish and maintain a blog. The common other names of a blog software are blog script, blogging software, blogware etc. Most of the blog software are free and open source, but premium custom blog software that suit for your need are also available.
Blog software are available in scripting languages like PHP, Java, Perl, VB.NET/ASP.NET, C#/ASP.NET, Static web page, Ruby on Rails etc. Most of these blog software required a Database. MySQL database is the most common database supported by these blog software.
Blog software are now developed into CMS. With the use of some extensions or modifications to these blog software, we can use it as a CMS. There are many free extensions for these blog software available where you an easily extend it's features to that of a powerful CMS. Also many ready-made stylish themes or designs are available for these blog software. Most of them are free to use, but professional paid exclusive designs are also available.
Free and open source blog software
The list given below are some free and open source blogging software where you can use it for the development of your personal as well as professional blogs. The scripting language used by these blog software is given in their brackets.  This list is taken from Wikipedia.
Apache Roller (Java-based)
b2evolution (PHP/MySQL)
blosxom (Perl)
Dotclear (PHP)
DotNetNuke (VB.NET/ASP.NET)
Drupal (PHP)
Elgg (PHP)
Frog CMS (PHP)
Geeklog (PHP)
Habari (PHP)
Jaws (PHP)
Joomla! (PHP)
LifeType (PHP)
Livejournal (Perl)
Movable Type (Perl)
Nucleus CMS (PHP)
Pebble (Java-based)
PivotX (PHP)
Sandbox (PHP)
Serendipity (PHP)
Slash (Perl)
Subtext (C#/ASP.NET)
Textpattern (PHP/MySQL)
Thingamablog (Static web page, no need for CGI, PHP or MySQL)
Typo (Ruby on Rails)
WordPress (PHP)
Proprietary blog software
The software packages listed below are under a proprietary software license and so it require the purchase of a license key to use them. The specific licensing terms vary but some of these software are free of charge for personal or non-commercial use. This list is taken from Wikipedia.
Telligent Community
ExpressionEngine
Traction TeamPage
Windows Live Writer
IBM Lotus Connections
IBM Lotus Quickr