The mystery surrounding the Malaysia Airlines flight-Boeing 777, which was disappeared on 8th March, has solved by a British satellite company using a complex mathematical process. The result is a bad news which said that it ended its journey in the middle of the southern Indian Ocean.
Malaysia's Prime Minister Announcement Photos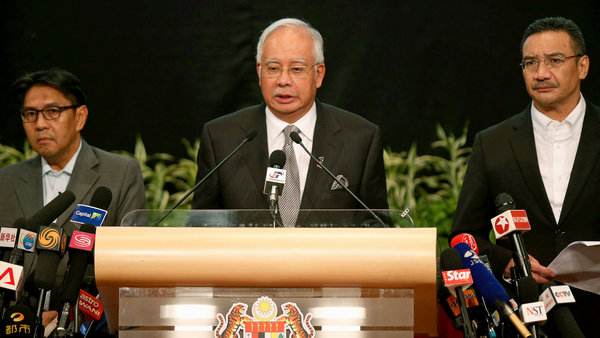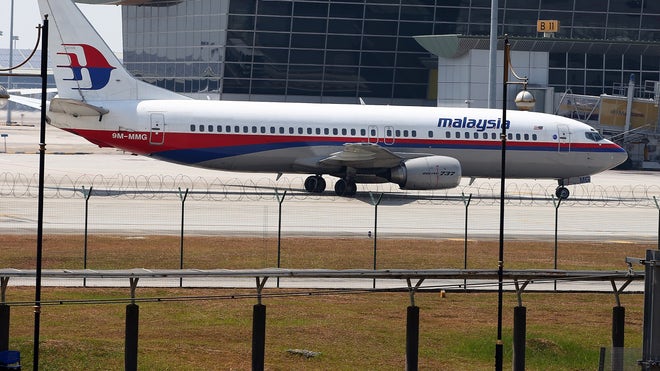 The company, Inmarsat, analyzed tiny shifts in the frequency of the plane's signals to infer the plane's flight path and the final location by a principle of physics called the Doppler effect. However the officials said that he method had never before been used to investigate an air disaster.
Najib Razak, Malaysia's prime minister, announced on Monday that no one is believed to have survived the flight. "This is a remote location, far from any possible landing sites," a somber Razak said. "It is therefore with deep sadness and regret that I must inform you that, according to this new data, Flight MH370 ended in the southern Indian Ocean," He said, which is the first definitive news of the fate of the Boeing 777 jet brought heartbreak to the families of those on board
Two-thirds of the plane's passengers were Chinese citizens, and the flight was bound for Beijing when it took off from Kuala Lumpur, Malaysia, on 8th March after midnight and furious Chinese relatives and friends of passengers refused to believe it, they point out that Malaysians were lying and hiding what they knew.
One woman among the relatives of passengers who gathered at the Lido Hotel in Beijing to wait for news of the flight said "The Malaysian government is not telling the truth, All governments are corrupt. The Malaysian government is hiding something."
Based on the announcement of the Malaysian prime minister on a new analysis of satellite signal data that ruled out any chance that the plane had flown north, toward land, from its last known position on March 8. The analysis found, it had to have flown south and by the time of the last recorded signal, it would have been nearly out of fuel over a deep ocean, more than a thousand miles from anywhere it could have landed safely.
On Monday an Australian military search plane spotted several floating objects that could be debris from the plane the search focused more tightly on that area and ships raced to investigate. On Tuesday, search flights were called off because of bad weather, officials said.
Finding the plane's flight recorders, or black boxes, will be crucial to determine the cause of plane's disappearance. Black boxes is a device which designed to transmit signals to help searchers locate them, but searchers have only about two weeks left to find them before the devices' batteries run out.