Try new Google Search with permanent Search Sidebar before it is launch to the public. I have given the trick to open the new Google search at the bottom of this post. Google is looking to streamline its search experience, said by Mr Marissa Mayer, Google's vice president of search product and user experience. For that Google is testing an overhauled interface for Google Search.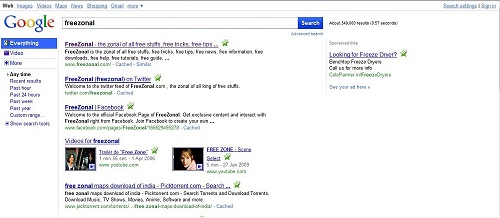 There is some additional features in this new Google Search. Google has added an additional search bar on the left side of its page with many options for search results.
The following options can bee seen in new Google Search with cool and attractive design.
Everything

Video

Images

News

Blogs

Books

Maps

Shopping

Forums

›Any time

Recent results

Past hour

Past 24 hours

Past week

Past year

›

Custom range…

From:

To:

ex: 5/23/2004

›Standard view

Related searches

Timeline

›Standard results

Page images

Fewer shopping sites

More shopping sites

Page previews
Here is a small trick to Try new Google Search with permanent Search Sidebar
Log in to www.google.com [ Mostly if you enter www.google.com, you will be directed to your local Google address. For example, if you are opening Google from India, you will be diverted to the Indian Google page www.google.co.in .So here you need to use a small trick to get the main version of Google www.google.com. To open main google page www.google.com, just type the address www.google.com/ncr ].
Copy and paste the below Code on your Browser URL Address field and press enter [do it twice for better results]
javascript:void(document.cookie="PREF=ID=20b6e4c2f44943bb:U=4bf292d46faad806:TM=1249677602:LM=1257919388:S=odm0Ys-53ZueXfZG;path=/; domain=.google.com");
Reload the page and enter www.google.com/ncr. Now you can see the new Google search page with stylish Google logo and blue search button. Enjoy !!!…
If you have any questions, please feel free to ask me through comments. Thanks !..