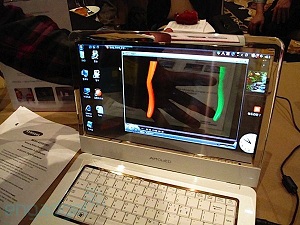 Do you ever imagine a laptop with a semi-transparent screen? Some of you might not even think about semi-transparent screens. But you can expect a bunch of gadgets with semi-transparent screens on coming days. Samsung has decided to take a step into the future, creating a 14-inch notebook prototype with a semi-transparent screen. When the device is off, the panel is up to 40 percent transparent; the screen casing is made out of transparent plastic, which makes the experience even more seamless.
Watch this video for things in action of Samsung new laptops with semi-transparent screen here
OLED technology is using in these types of laptops. One of the reasons why OLED technology is cool is the fact that you can create a semi-transparent OLED screen. View this video of SAMSUNG Flexible AM OLED . You can see how flexible it is and how rough and tough it is. You can see they are hammering and bending SAMSUNG Flexible AM OLED screen.