There is a glad news to all Indians that the Tablet PC Price in India is now under 3000 Rupees. Aakash, the Tablet PC developed by India and a British based company DataWind will be available in Indian Markets by November, 2011.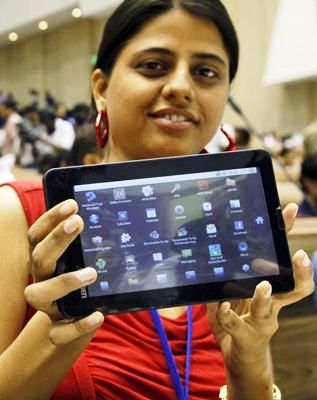 The Indian Government is acquiring 1 lakh units of Aakash tablet PC from DataWind company for an initial cost of 2250 Rupees per Unit. These ultra cheapest Tablet PCs are developed mostly for the students in India. The Government is planning to make this available for every student of the schools in India soon.
Last month, the Indian Government has announced that they will soon distribute Tablet PC for Indians at a price of $35 (around 1700 rupees) and is named as Sakshat. But they have changed it's brand name to Aakash and the price is bit increased to Rs. 2999.
Aakash Tablet PC Booking Online
Aakash Tablet PC booking online can be done easily through the website http://www.aakashtablet.com/ or read this article: Buy Aakash Tablet PC Online
Like this Tablet PC Price in India?
If you really liked this new ultra cheap Tablet price in India, share this article with your friends in Facebook now. Want to say something about this?, feel free to comment about this Tablet PC.
Update on Aakash Tablet PC
The project didn't meet the exceptions and as per the official advertisements. You can read more about it from the following reference links.
https://www.forbesindia.com/article/real-issue/what-went-wrong-with-the-aakash-tablet/33218/1
https://trak.in/tags/business/2015/07/13/aakash-tablet-project-shut-march/