Saina Nehwal , an Indian young badminton player won the third Super Series (hat-trick) title in a row by registering an awesome thumping victory in Indonesian Open final on Sunday, 27-June-2010 with a straight-game triumph over Japan's Sayaka Sato.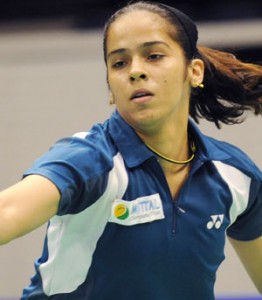 Now this young 20 year old Saina Nehwal ranks third among the top singles badminton players in the world and is the only Indian to have reached the singles quarter finals at the Olympics, and won the World Junior Badminton Championships in the year 2008. Her three titles in three past weeks is a phenomenal achievement for the Indian sport.
Saina Nehwal was born in Hisar (Haryana, India) on born March 17, 1990 and but spent her complete life in city of Hyderabad (City in Andhra Pradesh). Saina's foray into the world of badminton was influenced by her father and mother who were former badminton champions in Haryana.
You can read more about Saina Nehwal : http://en.wikipedia.org/wiki/Saina_Nehwal