The 35-year-old opener, Virender Sehwag wishs to play for 3 more years before his retirement.He reviled it on Tuesday in an exclusive chat with NDTV.He wished a good showing for the Kings XI Punjab in IPL-7 will present a strong case for his return to the Indian cricket team said Sehwag who was bought for Rs 3.2 crore by the Punjab franchise.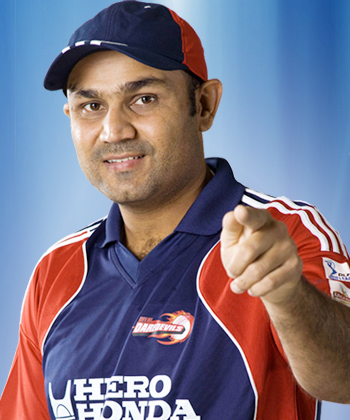 Sehwag added "I have 2-3 years of competitive cricket left in me before thinking of quitting the game. I can still give 2-3 years. I am looking forward to playing for Kings XI Punjab in the IPL and help them win the title this time,"
"We have a very good team. Our first aim will be to qualify for the play-offs. The ultimate goal is to bring home the Cup." He said his plan.
Reflecting upon his role, Virender Sehwag said, "My role has not changed. My job would be to perform to my potential for the franchise. I would be spending a lot of time with young players and sharing my experiences with them. I was doing this when I was part of the Indian cricket team. I was guiding the youngsters and I would be doing the same thing here."
When asked about his future games, Sehwag said, "I am working on my fitness and batting skills. It's about improving my concentration level and picking the bowler's length early. I am putting in a lot of hours in practice.May be I can play 2015 World Cup, may be not. I am enjoying my game at the moment whether playing at the domestic level, for Kings XI Punjab in the IPL. The important part is I am playing the game and I am happy with it".
Sehwag, who has scored 38 international hundreds supported the indian team, when asked about their early exit from Asia Cup "They are playing well as a unit but not winning the games. We have a talented bunch of players and only if they can click together as a batting and bowling unit, then only we can win the T20 World Cup," he said.
"You need to give time to these players. Our future is in secure hands. We had also faced a similar situation in 1999 when we were not winning abroad but after 2002, we started winning overseas. These young boys also need time before they start winning overseas," explained
Virender Sehwag was the opener of Indian cricket batting stream. His bowling tchnique and attacking method of batting along with his famous triple centuries against Pakistan and South Africa in Test cricket and his double hundred against West Indies in an ODI are still being talked about.