Sachin adds yet another diamond to his golden crown. The God of cricket, Sachin Tendulkar made his 50th test century against South Africa at centurion, on 19th December 2010. His reaction after 50th test hundred also glowed with simplicity similar to his batting style: "I don't know. I am okay. It is just another number for me. It is nice. Obviously, i cannot say i am not  happy, i am happy, but i do not know how to express this. It is good that it has come. Hopefully it does not…" The little master has given joy to cricket lovers and he does it in such a simple way. His commitment and sheer hard work made him different from others. After scoring centuries he look upwards for thanking god to help him. On this occasion, we too thank God. Congratulations Sachin.
Sachin's 50th Test Century Video
Sachin 50th Test Century Photo
Below you can view the photo of Sachin after scoring his 50th Century.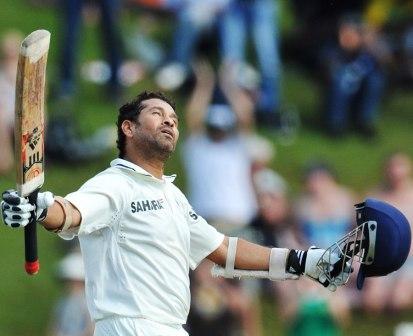 If you are a fan of Sachin, I highly recommend you to share this post with your friends and thereby show your love and respect towards the great Indian Cricket player Sachin Tendulkar. Enjoy.