MDU Rohtak exam result for BA Part-I Regular course and B.Com Part-I Distance course has been published by Maharishi Dayanand University Rohtak. Today all MDU students are very eager to check their exam results, but today the website was offline (not available) on most of the time.
Table of Contents
To know your MDU Rohtak exam result just visit the following official website of Maharishi Dayanand University and follow as per the details given there: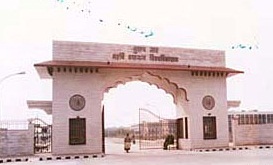 http://www.mdurohtak.com
Tips to check MDU Rohtak Exam Result
Open: http://mdurohtak.com/Site/ResultSearch_new.aspx
Enter your details yo get your MDU Rohtak exam result
If you are getting an error message like this Server is too busy , be patient and visit that page after 1 hour. You are getting this error message because there are too many MDU Rohtak examinees (students) like you are trying to get their results from that website, but the website can't accommodate and process the request of so many MDU Rohtak students and so the server/website is showing such an error message.
About MDU Rohtak
MDU which is the abbreviation of Maharishi Dayanand University is a public university which is located in the Haryana state of India. MDU has been established in year 1976. Maharishi Dayanand University is named after the great saint "Maharishi Dayanand Saraswati". Maharishi Dayanand University is the premiere higher educational institution in Rohtak, Hariyana. MDU Rohtak offers various courses at undergraduate, post graduate and doctorate educational levels. More information about MDU is available at the official website www.mdurohtak.com
I hope all of you got a clear information about checking your MDU Rohtak exam results. For all site updates like MDU Rohtak exam results, I request stay tuned with our updates on social medias.