Raavan or Ravana is an awesome upcoming film directed and co-written by Mani Ratnam. This film is simultaneously made in Hindi and Tamil with slightly different cast, which would also be dubbed into other languages like English, Telgu etc.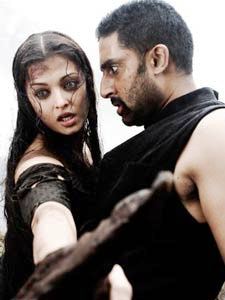 In Hindi this film is called Raavan and in Tamil this film is named as Ravana. The film score (background music of the film) and soundtracks are composed by the great Indian music director, A. R. Rahman. This film (Raavan or Ravana) is scheduled to be released on Friday, 18 June 2010 on all major theaters in India. This film's premiere has already held in London on 16 June 2010. All Indians are waiting for the release of this movie. All are having a great expectation on this movie since all the hands behind the production of this movie are very popular and talented.
Story of the Movie Raavan | Ravana
The film (Raavan or Ravana) is a modern-day version and a loose adaptation of the mythological character from the Hindu epic (Indian epic) Ramayana, in which Sita, the wife of Lord Rama, was abducted by the demon (Rākshasa) king of Lanka (modern Sri Lanka), Ravana (Raavan in Hindi language).
Producation of Raavan | Ravana
This movie Raavan | Ravana has been Co-produced by Reliance BIG Pictures and Madras Talkies at a budget of 45 crores Indian Rupees. The movie is releasing approximately across 3,000 theaters worldwide.
Shooting location of of Raavan | Ravana Movie
Raavan | Ravana movie has been shot in numerous locations around India including the thick forests of Tumkur (a ditrict in Karnataka State), Athirappilly Falls (a water fall in Kerala state), Ooty, Kolkata, Jhansi, Mahabaleshwar and in the Malshej Ghats (Maharashtra). earlier Mani Ratna planned to shoot some scene in Sri Lanka, but later he canceled the plan due to the arise of rebellion between LTTE (Tamil rebel group in Sri Lanka) and Sri lankan Government.
The Athirapally waterfalls in Kerala is Mani Ratnam's favourite location. Mani Ratnam had earlier filmed some parts of the bollywood film Dil Se song, Jiya Jale (picturised on bollywood actress Preity Zinta, and the Guru film song, Barso re (picturised on bollywood actress Aishwarya Rai) at the same location. The scenery of this place is so beautiful and is perfect for romantic songs.
The shootings of this film actually began on the end of Oct-2008 in the southern part of Tumkur district in Karnataka. But during the filming, Mani Ratnam, director of the film became ill. That is why the filming of Raavan/Ravana was delayed for some months. The production of the film was started by Oct-2009.
Stunts of Raavan | Raavana Film
This film Raavan | Ravana will have numerous awesome action scenes and great stunts performed by various actors.The stunts in this film are also directed by Mani Ratnam and are choreographed by Peter Hein. Kalarippayattu (The powerful martial art of Kerala) is also featured in this film.
Dance and Costumes: Raavan | Raavana Film
Astad Deboo, an Indian dancer has choreographed a passionate chase scene and an awesome tandav dance between Abhishek Bachchan and Aishwarya Rai for this film. Costumes of Aishwarya Rai was designed by Indian talented fashion designer, Sabyasachi Mukherjee.
Raavan Review
Raavan is the Hindi release of this movie. After playing the nervous villain Lallan Singh in Yuva (released in 2004) which was also directed by Mani Ratnam, Bollywood actor Abhishek is all set to return in a rougher than ever avatar as the outlaw Beera in Raavan Film.
Major Actors in Raavan
Bollywood superstars Abhishek Bachchan, Aishwarya Rai, Govinda, Nikhil Dwivedi and Tamil superstar Vikram