The most anticipated film of 2011, Don 2: The Chase Continues is an action thriller film directed by Farhan Akhtar starring Shahrukh khan. It is the sequel to the 2006 film, Don: The Chase Begins Again, which itself is a remake of the 1978 film Don.Don 2 takes off  from where Don 1 left off.
Don 2 will be released worldwide on the Christmas weekend of December 23, 2011, which is the only  sequel in Shah Rukh khan's long career.The film will release in around 3,600 prints in 3D, Telugu and Tamil along with the Hindi version. Shah Rukh's young,fit and fresh looks of this villainous  character  in lead role are stunning. Don 2 was available to download on free hindi movies website movierulz plz.
Don 2 Image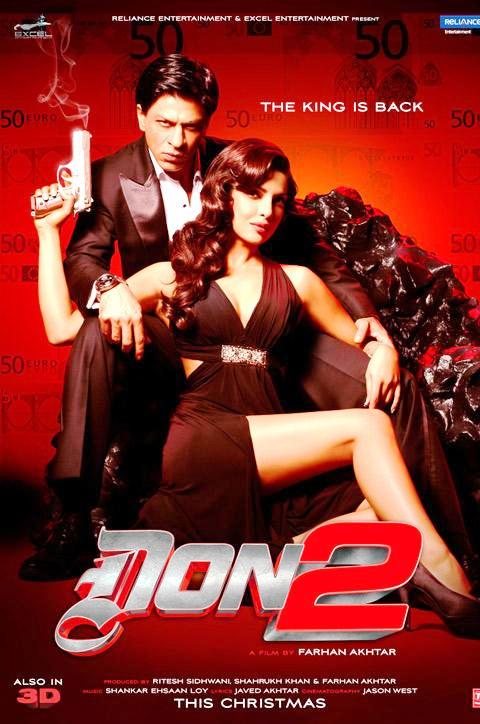 Don 2 General Information
Starring:
Shahrukh Khan as Don
Priyanka Chopra as Roma
Lara Dutta as Ayesha
Kunal Kapoor as Sameer Ali
Om Puri as Malik
Boman Irani as Vardhaan
Aly Khan as J.K. Diwan
Nawwab Shah as Jabar
Saahil Shroff as Arjun
Florian Lukas as Jens Berkel
Crew
Directed by Farhan Akhtar
Produced by Farhan Akhtar
Ritesh Sidhwani
Shahrukh Khan [Gauri Khan]
Screenplay by Farhan Akhtar
Ameet Mehta
Amrish Shah
Story by Farhan Akhtar
Ameet Mehta
Amrish Shah
Music by Shankar-Ehsaan-Loy [Shankar Mahadevan,  Ehsaan  Noorani, Loy Mendonsa]
Cinematography Jason West
Editing by Anand Subaya
Ritesh Soni
Studio Excel Entertainment
Distributed by Reliance Entertainment
Excel Entertainment
Release date(s) 23 December 2011
Country : India
Language :  Hindi
Budget : INR75 crore ($16.7 million)
Story of Don 2 Movie
In 2006, By using  another  identity,enmity  of Singhania and Vardhan and pursuit of police for Don,Don was able to destruct the confidence and cheerfulness of  his associated gang and able to escape without any traces of evidence of his whereabouts. Thus he become the undisputed King of the underworld in Asia  and remained as King with his sharp mind and merciless tactics.From here plot of the second part starts.Now the Don want to conquer the European domination. A master plan that will destroy all his enemies and virtually bring Europe to his knees is created! In his way are the bosses of the existing European underworld and all law enforcement agencies.The film is about how  he wins the  battle or not.Also the film narrates the Don's past which is not known.It shows that what he is because of the environment he was born in.It is also crafted with many more sequels to come.Since film  is the battle in the Europe,it is now shot mainly in Berlin[Germany] instead of Kuala Lumpur  in Don 1.Also Don must avoid assassination or arrest, whichever comes first, in order for his plan to succeed.
Don 2 Pre-release Reviews
Due to the shoulder surgery of  Shah Rukh,the project is postponed  which is declared by Farhan after the release of the Don: The Chase Begins Again since it required much physical exertion of Shah Rukh.Both of them engaged in various projects thereafter and in the later half of February 2010,Don 2 is declared with slight variation in cast and crew.Arjun Rampal and Isha Kopikar are replaced.Don 1 was Farhan's father  Javed Akthar's vision where as Don 2  truly a film of three DON fans-Ameet,Amreesh and Farhan.As declared earlier prime location is Germany which is is infamous for denying requests of international film shoots but they successfully shot the film there.They also get a rebate from German Government . Reliance Big Pictures has bought the rights of the film from Excel Entertainment for 85 crore and has spent another 22 crore in prints and marketing the film.Zee Network had acquired the satellite rights of the film for whopping 37 crores, inform trade sources.
Don 2 Videos
Official Teaser on Youtube
Theatrical Trailer on Youtube
Don 2
PREVIEW
"i saw part of it in a special screening and it looks incredible.

though, i hope there is some character development because don seems a bit too cocky

throughout the hour i saw. he needs to come down a notch and show some emotions!
Don 2 Quotes
Don: The biggest mistake of Don's enemies are that they are Don's enemies!

Don: Don ko pakarna mushkil he nahi, namumkin hai.