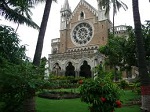 BMS results 2010 and other information regarding Bachelors in Management Studies examination results is given here. All BMS examinees can check their results online by following the instructions given in this page. BMS is the abbreviation of Bachelors in Management Studies, is a full-time 3 year course.
Recent news about BMS
University of Mumbai has officially declared BMS Results 2010 6th Semester Online. Amm BMS students under University of Mumbai can check their examination result from the official website : www.mu.ac.in
How to check BMS results 2010 of University of Mumbai?
Just follow the steps to check your BMS exam results of University of Mumbai..
Visit http://www.mu.ac.in/res_mgmt.html to open the exam results page of BMS
From that page select your semester by clicking on it
Enter your seat number and click "Go" button
Wish you all the best for BMS examinees !