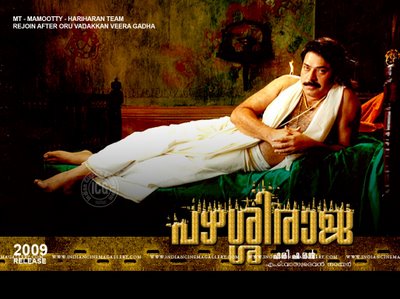 Pazhassi Raja is the most popular historical film of the great ruler of Kerala, Kerala Varama Pazhassi Raja. Here all about Pazhassi Raja Movie is available. Pazhassi Raja Movie an Indian multilingual film directed by T. Hariharan, written by M.T. Vasudevan Nair and directed by Gokulam Gopalan.The hero of the film Mammooty plays the role of the great KeralaVarma PazhassiRaja. The 3 heroines in this movie are Padma Priya as an Adivasi girl, Kanika as pazhassi Raja's wife and Linda Arsena (a wellknown theatre artist in New York) as an English women. The film released on 16th October, 2009 with 560 prints out of which 125 were in original Malayalam versions (malayalam is the official language of kerala, India) currently running in all major theatres in Kerala, 100 in Tamil (official language of Tamil Nadu, India), 110 in Hindi(official language of India) with English sub-titles for overseas release !. Download Malayalam movies Movierulz.
Mammooty, M T Vasudevan Nair and Hariharan, the team behind the superhit film Oru Vadakkan Veeragatha gets together in this biopic magnum film Pazhassi Raja after a long span of about 18 years !.
Brief History of Pazhassi Raja
Kerala Varama pazhassi Raja from Kottayam Royal family was the ruler of Malabar (North Kerala). He is wellknown for his tricky Gorilla War which he used against Biritish Army with the hep of his military and some loacl Adivasi Tribes) forces. Eventhough He struggled a lot and did a lot of contribution for the freedom moment of India , His is not having much importance in the history of Freedom Moment of India. The people of India ignored his contributions to India's Freedom. This film really shows the importance of Pazhassi Raja in the freedom moment of India.
In malayalam, Mohan Lal, most popular south Indian actor, introducting Pazhassi Raja to the audiences with a 45 second prologue and Padmashree Kamal Hassan, the famous Kollywood actor, has dubbed a prologue for Mammooty in Tamil release. It was said that Bollywood super star, Sharuk Khan ( SRK ) will dub in Hindi release.
Track list Pazhassi Raja Movie
The songs lyrics are written by O.N.V Kurup, Gireesh Puthenchery and Kanesh punoor. All music of this film is composed by Illaiyaraja.
All songs details of Pazhassi Raja Movie is listed below
| # | Title | Artist(s) | Length |
| --- | --- | --- | --- |
| 1. | "Mathangananamabjavasa" | Padmabhushan K. J. Yesudas | 1:16 |
| 2. | "Kunnathe Konnaykum" | Padmashri K. S. Chithra , Lyrics : Padmashri O.N.V. Kurup | 5:12 |
| 3. | "Aadiushassandhya Poothathivide" | Padmabhushan K. J. Yesudas, M. G. Sreekumar, Ziyad Ali V , Lyrics : Padmashri O.N.V. Kurup | 5:29 |
| 4. | "Ambum Kombum Komban Kattum" | Ilaiyaraaja, Manjari, Kuttappan , Lyrics : Gireesh Puthenchery | 4:59 |
| 5. | "Odathandil Thalam Kottum Kattil" | Chandra Sekharan, Sangeetha , Lyrics : Gireesh Puthenchery | 5:07 |
| 6. | "Aalamadankala Mythavanalle" | M. G. Sreekumar, Vidhu Prathap, Ashraf Thayineri, Edavanna Gafoor, Faisal Elettil, Krishnanunni , Lyrics : Kanesh Punoor | 4:47 |